Steal the Show: Accessorizing Your Royal Blue Prom Dress with Jewelry
---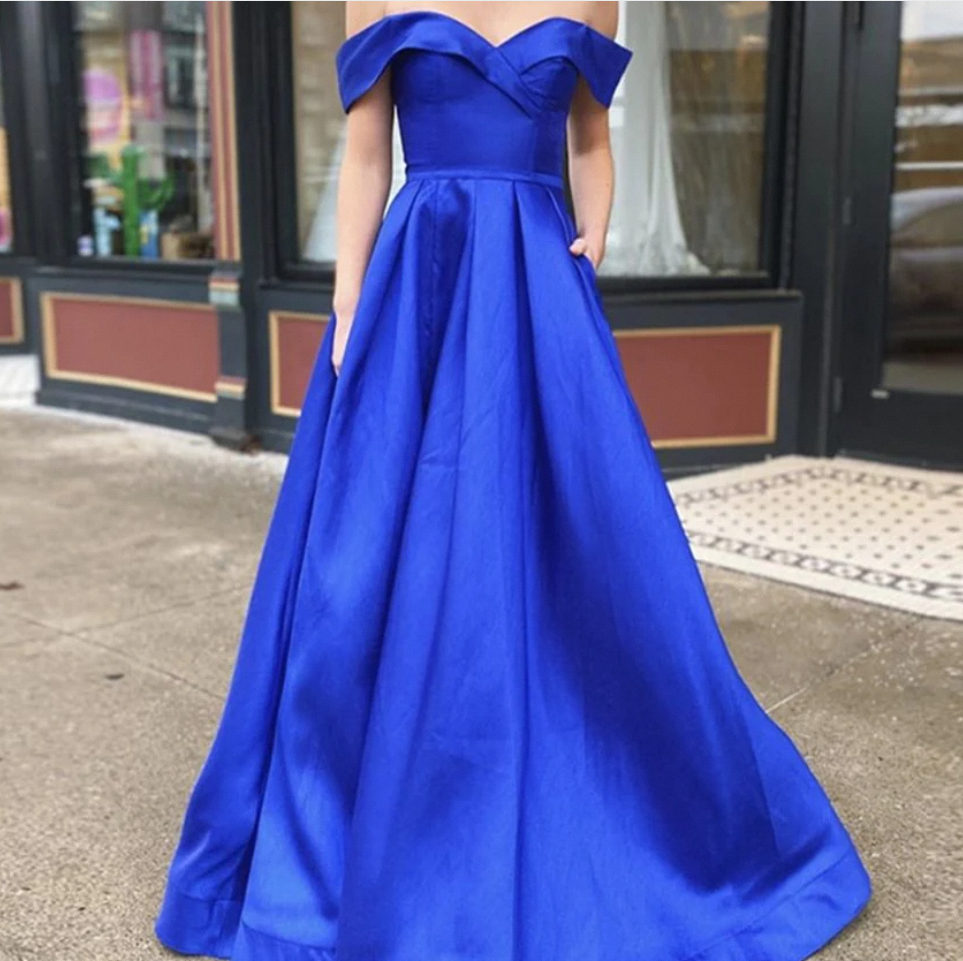 Accessorizing your royal blue prom dress with the right jewelry can make all the difference in creating a stunning and unforgettable look. Whether you want to keep it simple and elegant or go all out with statement pieces, there are endless options to choose from.
Before diving into the world of jewelry, it's essential to understand the basic principles of color theory. Royal blue is a rich and vibrant shade, so it pairs well with both warm and cool tones. However, to create a balanced and visually pleasing ensemble, it is crucial to consider the undertones of your dress.
If your royal blue gown has cool undertones, such as a touch of purple or turquoise, complementing it with silver or white gold jewelry will enhance its natural beauty. Opt for delicate pieces that will add a touch of sparkle without overpowering the dress. A simple pendant necklace with a dainty silver chain or a pair of drop earrings adorned with sapphires or topaz will effortlessly elevate your look.
On the other hand, if your royal blue dress leans towards warm undertones, like a hint of green or teal, gold jewelry will bring out its warmth and create a luxurious feel. Consider wearing a chunky gold necklace with intricate designs or a pair of chandelier earrings with gemstone accents like emerald or citrine. The combination of gold and rich blue will exude elegance and sophistication.
Now that we have established the undertones, let's move on to the different jewelry options that will add the perfect finishing touch to your prom ensemble.
Necklaces:
When it comes to necklaces, the length and style should complement the neckline of your royal blue dress. If your gown has a plunging neckline or a sweetheart neckline, a dainty pendant necklace that sits just above the cleavage can draw attention to your décolletage. Opt for a necklace with a small gemstone or a delicate charm that matches the color scheme of your dress.
For a more modest neckline, such as a halter or high neck, consider a statement necklace to create a focal point. A chunky collar necklace with bold gemstones or pearls will add drama and sophistication to your look. Just make sure the necklace doesn't compete with the dress. If your royal blue gown already has intricate embellishments or beading, opt for a simpler necklace to avoid overwhelming the overall look.
Earrings:
Earrings are a versatile accessory that can instantly elevate your prom look. If you prefer a classic and timeless style, go for a pair of stud earrings. Choose gemstones that complement the color of your dress, such as sapphires or diamonds. This minimalist approach will add a touch of elegance without overpowering your gown.
If you want to make a bold statement, consider long and dangling earrings. Chandelier earrings adorned with crystals or pearls will create a glamorous look that catches the light with every move you make. Ensure that the earrings are not too heavy or overpowering, as they may distract from the dress. Remember, balance is key!
Bracelets:
Bracelets are a great way to add some sparkle to your wrist and complete your prom ensemble. If your dress has long sleeves or intricate details around the wrists, opt for a simple and delicate bracelet, such as a tennis bracelet adorned with small gemstones. This will add a subtle touch of elegance without overpowering the dress.
If your royal blue gown has a sleeveless or strapless design, you have more freedom to experiment with bolder bracelet styles. Consider wearing a statement cuff bracelet that features intricate designs or gemstone accents. This will create a unique and eye-catching look that complements your dress without stealing the spotlight.
Rings:
While rings may not be the most prominent accessory for prom, they can still add a touch of elegance to your overall look. If you prefer a minimalist approach, opt for a simple band ring in a matching metal tone to your chosen jewelry. This will create a cohesive and put-together appearance.
For those who want to make a statement, consider a cocktail ring with a large gemstone that matches the color of your dress. This bold accessory will draw attention to your hands and add an extra element of glamour to your prom ensemble.
Remember, when it comes to jewelry, it's important to strike a balance between your dress and accessories. Avoid overwhelming your royal blue gown with too many bold or heavy pieces. Instead, choose one or two statement accessories and complement them with more delicate pieces to create a harmonious and stunning look.
Tags:
royal blue prom dress